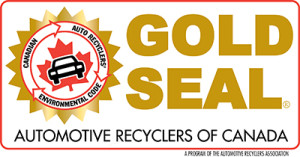 Reid's Automotive Recycling Ltd. was established in 1995 to serve the need for specialized knowledge in the supply of quality recycled OEM parts for Chrysler, Dodge, Jeep vehicles. Crashworthy OEM parts offer the exact fit for worry free repairs and assurance of safety to the occupants of the vehicle. As a family owned and operated business we are committed to selling only the highest quality part. We have made a commitment to lower the impact of automobiles on the environment by implementing highest standards in dismantling, processing, and preparation of resale parts.
Did you know?
Reid's has achieved certification as an ICBC Approved Wheel Repair facility.
To learn more about the services we offer please visit our Wheel refinishing section on this site.
Just leave the freight to us.
Our freight partners are happy to provide the next day service to most area of BC and Alberta securing 48 hour delivery to outlying areas.
Search out inventory online, submit your request electronically, call us at 604-521-1818, toll free 1-800-521-7710 or visit our store 6064 Trapp Ave, Burnaby BC. We are happy to assist you Monday to Friday between the hours of 8-5:30.
Our sales professionals:
Stu Reid – email hidden; JavaScript is required
Luke Smith – email hidden; JavaScript is required
Matt Reid – email hidden; JavaScript is required
Taking a proactive role in organizations and associations is an important tool to keep us in tune to the changes in the marketplace, industry, environment and community.
Our affiliates: